About the theme
Conversion is a premium HTML landing page. Its great structure and clean, professional design as well as a variety of page templates allow it to fit to both transactional and reference landing pages.
The main goal of a landing page is to convert visitors into customers, therefore the layout is specially designed and fitted with a variety of features that will make that happen. Coupled with a structure that's highly customizable, this product will be perfect for your product, service or company presentation.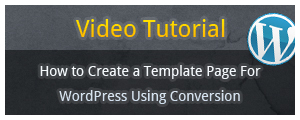 People LOVE Conversion. Here's why:
Just wanted to say that I was blown away (actual blown away) when I opened the code in dreamweaver. It is one of the best organized themes I've seen and makes the challenge of customizing the theme much easier.
– Rigdha
This is great, i'm definitely gonna use it for my projects. I love the fact that it has so many templates to choose from. Great work!
– Manuel
What can I say, Adi is top notch when it comes to coding and most importantly, customer support. To find a theme, or HTML Landing page with good code is great. But finding one with outstanding customer service puts that theme in a league of its own. If you are looking for a landing page, while being an amateur or not, this is the one to buy, or one of his other products.
– Tyler
I've been using this file, it's so easy to work with and I love the look of it. Great job!
– finley
Hi Adi – I panicked when I realized I had purchased a template I thought was native for WordPress only to discover that it was HTML … HOWEVER , your code is so solid and well-organized that it was a snap for even an HTML novice like me to create what I needed – well done and thank you!
– Russell
Hello! Congratulations and thank you for the great work. It´s very easy to customize the theme, the files are very clean, well structured and easy to understand. It has a good structure for SEO , too.
– Fabricio
Matching HTML Template
A much more complex, HTML theme based on the landing page, is available for sale here.
Here's some of the template's key features:
W3C Valid HTML Code
Tableless layout
HTML5 Doctype
Compatible With All Browsers
5 Different Page Templates
Page Template With Video Embedding Support
Infinite Color Variations
Included CSS and PSD Files for Customization
Included Source PSD Files
Detailed Documentation + Screencasts
jQuery Powered Product Tabs and Tooltips
CLICK HERE TO PURCHASE – $10